National Immunisation Programme update - 18 November 2022
Kia ora koutou,
Please find below our update for this week. We appreciate you sharing this with your wider contacts and networks.
Extending second booster eligibility to Māori and Pacific Peoples aged 40 – 49 years
You will have seen that there was an announcement on Wednesday 16 November 2022 to lower the eligible age for a second booster for Māori and Pacific people to 40 years and over.
We'd like to let you know about the following supporting communications that are happening or about to happen:
Direct communications - 55k Māori and Pacific people aged 40-49 who meet the eligibility criteria for a second booster will be sent an email or SMS today, 18 November.

The content of the communication is to inform them of the change in eligibility of second boosters following this week's announcement, advising why second boosters are important; and should they wish to, how to book and get vaccinated. Individuals will be directed to pharmacies, local

Māori or Pacific health providers, and vaccination centres to have their second booster. They are also provided details to call Healthline for information and to book. Following today's email / SMS campaign, outreach calls will commence from Monday 21 November, with the automated journeys age-criteria extended from 22 November.
Targeted radio advertising will be live from Monday 21 November(focussed on iwi and Pacific radio). A media schedule is attached as a PDF for your reference.
Updated print collateral is in production and will be available on Dropbox once ready. Please feel free to check this link: Dropbox: COVID-19 collateral
An update of the interactive digital tools on the Unite Against COVID-19 and Karawhiua websites is underway.
The Ministry of Health website has been updated to reflect this change in eligibility COVID-19 vaccine: Boosters | Ministry of Health NZ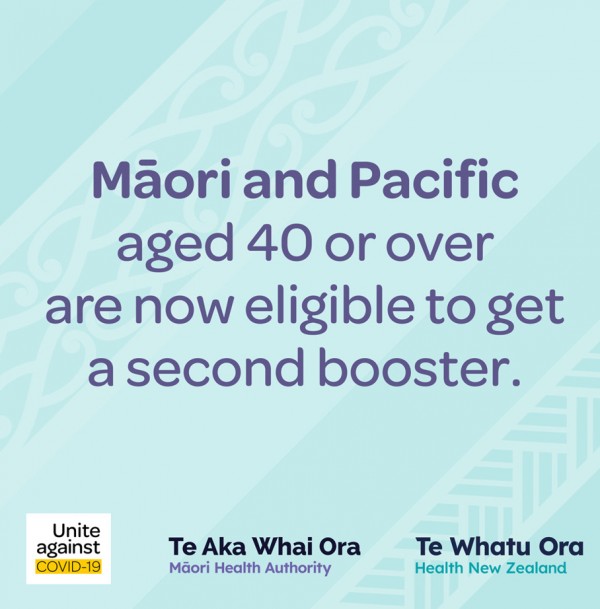 Dropbox update and changes
You may have noticed that all vaccine collateral that used to be on the UAC website, or the UAC portal is now available in our Dropbox as well. We are making some changes on how you will see collateral in Dropbox - this will hopefully make it easier for you to find what you are looking for. We are always keen to hear your feedback and suggestions as to how we can do things better.
Further to yesterday's announcement on the Second booster eligibility expansion, the Māori and Pasifika focus flyers for the '5 Reasons to get your COVID-19 vaccination campaign' were incorrect. Whilst we update the flyers – we have removed them from Dropbox and Bluestar. Once we have the updated artwork, we will return them back to Dropbox.
New COVID-19 video | Malua and Masele and the importance of the second booster
Masele is immunocompromised. In this short video she talks about getting COVID-19 and the importance of getting the second booster.
Watch the video on Facebook here and share with your networks.
National Immunisation Programme – Organisational Chart, and recording of the Stakeholder hui held on 10 November
We are pleased to include as a PDF the National Immunisation Programme organizational chart and information about the Immunisation Taskforce as mentioned during our Stakeholder hui on 10 November. If you missed the hui you can find it in our Dropbox here: Stakeholder hui 10 November 2022along with the slides for the presentation. If you have any queries please email us at immunisation@health.govt.nz
Our regular reminders
Weekly vaccination data
A new weekly, online Trends and Insights report has replaced our previous, downloadable Whānau Māori and Pacific Peoples Data summaries. Our Māori and Pacific data can be found here: COVID-19 Trends and Insights, COVID-19: Current Cases, COVID-19 Case Demographics and COVID-19 Vaccine Data.
Collateral on Dropbox
Don't forget all our immunisation collateral is available on Dropbox for health care providers to use when promoting vaccinations. Please feel free to share this link and the collateral widely with your other healthcare colleagues: Dropbox: NIP – vaccine resources – Simplify your life.
Consent forms (English and Te Reo Māori) and policy statements for use by health professionals can also be found in this Dropbox.
You can also find a range of vaccination stories to share on our YouTube channel.
Ngā mihi nui,
Sandy
Please note: As I am WFH from overseas at the moment, and due to the time difference, my hours of work is altered. I will endeavour to get back to you as soon as I can, but sometimes it may not be until the next day when I respond. Thank you so much for your understanding and patience.
Sandy Thambiah
Senior Adviser, Engagement
National Immunisation Programme
waea pūkoro: +64 21 248 1288| īmēra: sandy.thambiah@health.govt.nz
133 Molesworth Street, Te Whanganui-a-Tara
Follow us on LinkedIn | Facebook | Instagram

Documents to download
Last edited Nov 18, 2022, 5:10 PM
447 KB
Last edited Nov 18, 2022, 5:10 PM
163 KB