HNZ: NIP Update 7 Oct 2022 - Drive-through childhood vaccinations - lessons from Tairāwhiti | Pertussis posters available | 5 reasons why to get booster translations | Regular reminders
Kia ora koutou e ngā kaimahi,
Here's our update for this week. As always we appreciate you sharing this with your other healthcare colleagues, and contacts – Thank you!
Drive-through childhood vaccinations – lessons from Tairāwhiti
Attendees at yesterday's stakeholder hui were fortunate to hear from Turanga Health CEO Reweti Ropiha and Tairāwhiti Vaccination & Winter Preparedness Events Coordinator
Di Akurangi who spoke about the District's recent childhood immunisation drive-through vaccination event. With their permission, we are sharing their story, which outlines how they organised the event and what they did to make it a success for their local community.
You can view their presentation here: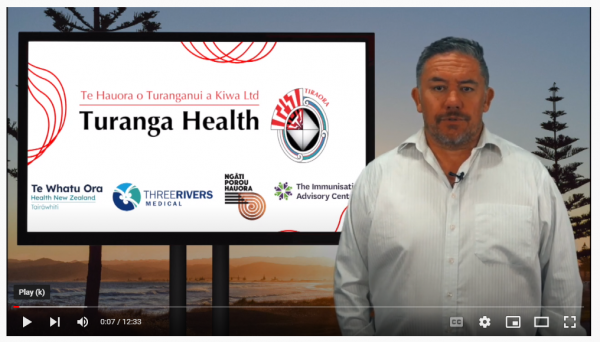 Pertussis (Whooping Cough) posters now available
More than 500 pharmacies are now offering Pertussis vaccines, free of charge, to pregnant people.
To help encourage pregnant people to take advantage of this opportunity, we have created a new, downloadable poster pharmacies can print and display instore. We have also produced a downloadable flyer that can be printed and distributed to pregnant people to help raise awareness of the vaccine's importance, and where and when they should get it.
Social media tiles are coming soon.
You can access these files on our Dropbox here.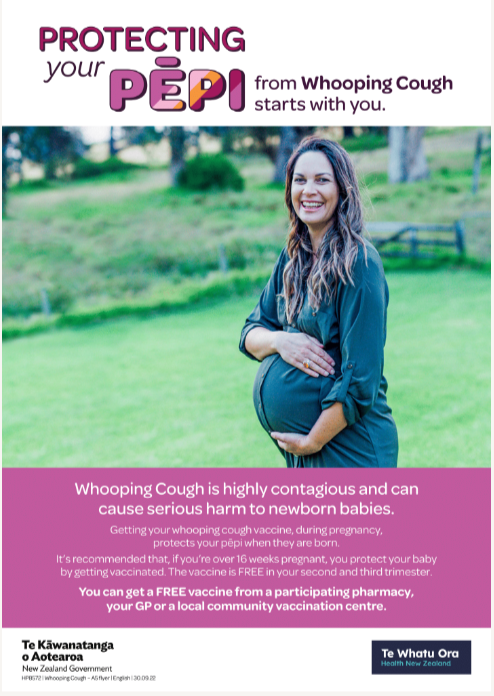 Five reasons why to get your booster now available in multiple translations
5 reasons why to get your booster – is now available in Arabic, Hindi, Korean, traditional Chinese and Simplified Chinese. You can view the translations here: Dropbox - 5 reasons why to get your booster.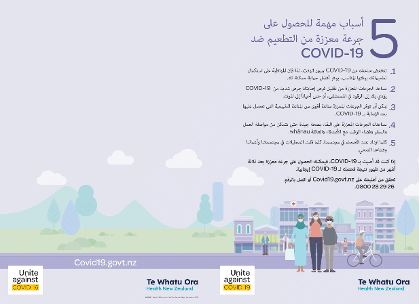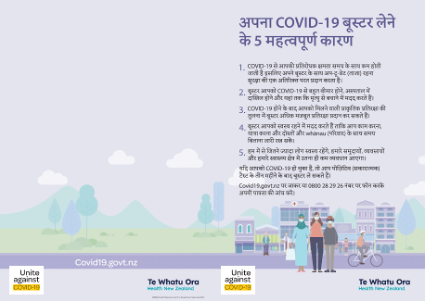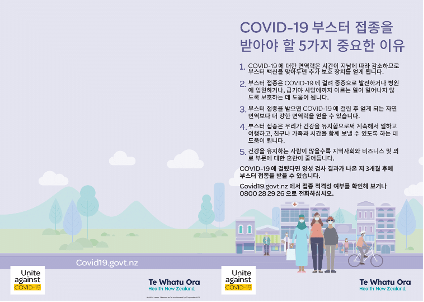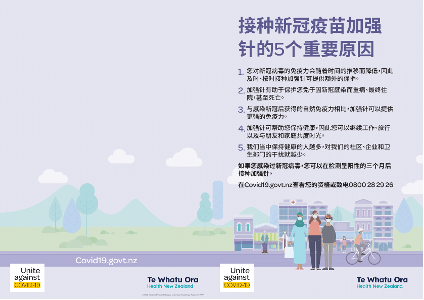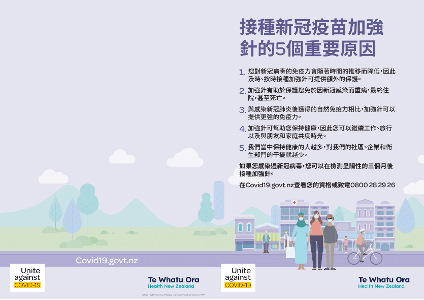 REGULAR REMINDERS
Vaccination data
A new weekly, online Trends and Insights report has replaced our previous, downloadable Whānau Māori and Pacific Peoples Data summaries. Our Māori and Pacific data can be found here: COVID-19 Trends and Insights, COVID-19: Current Cases, COVID-19 Case Demographics and COVID-19 Vaccine Data.
Collateral on Dropbox
Don't forget all our immunisation collateral is available on Dropbox for health care providers to use when promoting vaccinations. Please feel free to share this link and the collateral widely with your other healthcare colleagues: Dropbox: NIP – vaccine resources – Simplify your life.
Consent forms (English and Te Reo Māori) and policy statements for use by health professionals can also be found in this Dropbox.
You can also find a range of vaccination stories to share on our YouTube channel.
Have a great weekend!
Ngā mihi nui,
Sandy
Sandy Thambiah
Senior Adviser, Engagement
National Immunisation Programme
waea pūkoro: +64 21 248 1288| īmēra: sandy.thambiah@health.govt.nz
133 Molesworth Street, Te Whanganui-a-Tara