HNZ: National Immunisation Programme update: Hui | Vaccination mandate revoked | Booster campaign material and Tongan booster video | Aging in and Novavax | Vaccination data and Dropbox collateral
Kia ora koutou Health Sector friends, advocates and colleagues,
Happy Friday!
We've got a few updates this week for you and for you to share with your networks as relevant. I also want to draw your attention to our Programme hui scheduled for Thursday 6 October(details below).
National Immunisation Programme hui
We would like to invite you to the upcoming Te Whatu Ora – Health New Zealand's National Immunisation Programme hui, which is being held from 12 noon – 1.00pm, Thursday 6 October 2022.
This lunchtime hui is designed to keep our vaccination and immunisation teams up to date with plans and activities undertaken by the National Immunisation Programme. The hui will include the following presentations:
Rachel Mackay: Welcome and overall programme updates
Dr Marion Leighton: Clinical updates
Bex Bruno: Vaccine specific operational updates
Patricia Joseph: Equity programme updates
Loren Shand: Aotearoa Immunisation Register
We'll also provide workforce and promotional campaign updates.
If you have specific issues you'd like addressed, please email them to us before Thursday 29 September.
Don't forget to add the Teams meeting invite details into your calendar, and please also feel free to forward this invitation on to any health sector colleagues who may wish to attend.
We look forward to seeing you online.
Revocation of Health and Disability Vaccination Mandate
As announced by the Government on Monday 12 September, the COVID-19 protection framework has been 'retired'. Of relevance to you is the revocation of the vaccination mandate for the health and disability sector workers (which includes workers in aged care and residential) – that will take effect next week at 11.59pm, Monday 26 September.
The mandate was introduced to protect workers in high-risk settings from COVID-19 and help prevent transmission between workers and vulnerable people. The mandate is no longer needed now the affected workforce has a very high vaccination rate (estimated to be greater than 95 percent), and vaccination has a reduced overall efficacy against Omicron transmission.
The revocation of the order applies to the remaining health and disability workers in the following settings:
Health practitioners dealing with patients in person, such as doctors, nurses and dentists

Workers in medical centres/GP practices, pharmacies (such as receptionists or assistants)

Workers employed or engaged by certified providers – which includes hospitals, rest homes, or residential disability care facilities

Care and support workers - workers employed or engaged to provide care and support services within a home or place of residence.
All exemptions previously granted will expire at 11:59pm on 26 September. This includes both Temporary Medical Exemptions and Temporary Serious Service Disruption Exemptions. No exemption applications will be accepted after 11:59pm on 26 September.
Some businesses and organisations may choose to continue COVID-19 vaccination requirements through employment contracts - for example, Te Whatu Ora's active vaccination policies across each of the districts and entities will remain in place until a national policy has been agreed. Guidance on employment law, health and safety law and contractual requirements can be found:
COVID-19
5 reasons why - booster campaign material
Our booster reminder campaign continues, with advertising appearing in a range of digital, print, radio, and TV slots (including Māori and CALD outlets). Our Acts of Aroha advert will also run in cinemas during the school holidays. Don't forget we have a full suite of supporting collateral you can access via Bluestar (for printed material) and Dropbox: 5 reasons to get your booster (for downloadable digital assets). This comes in a range of languages, including Te Reo Māori, Samoan and Tongan.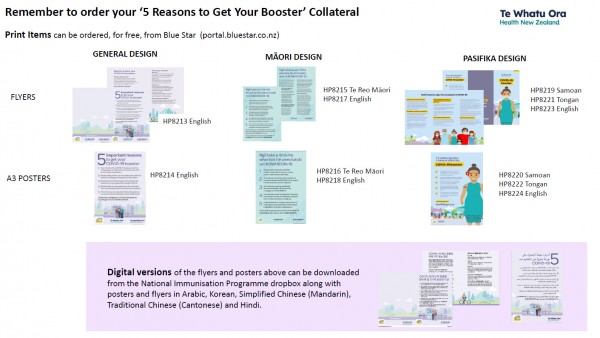 New Tongan booster video launched
A new video was launched last week with Dr Chris Puliuvea speaking in the Tongan language, explaining how vaccines work to protect us, and why it's important to keep up to date with immunisations. Click here to watch the video and feel free to share with your community networks.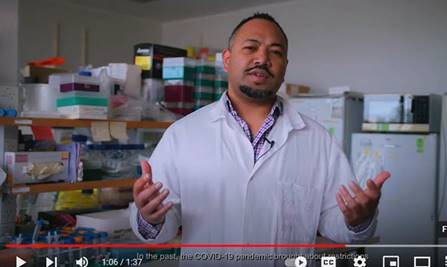 Aging in and Novavax
This week we advised of two policy changes affecting our COVID-19 vaccines:
Ability of people 12 years and over to have Novavax as their primary course (previously it was 18 years).
Please note – we have since clarified our position on the gap between doses in this situation:
The interval between doses of the primary course is a minimum interval of at least 3 weeks with 8 weeks being optimal (same as for Pfizer).
Aging-in of the Pfizer vaccine for children who are 11 years old when they have their first dose, but turn 12 years before they are due for their second dose. These children can now have an adult vaccine for their second dose.
OUR REGULAR REMINDERS
Weekly vaccination data
The most recent flu vaccination data is available here.
Collateral on Dropbox
Don't forget we have a range of collateral you and your providers can use to promote vaccinations. Please feel free to share this link and the collateral widely: Dropbox: NIP – vaccine resources – Simplify your life. You can also find a range of vaccination stories to share on our YouTube channel. We are now sharing consent forms and policy statements for health professionals in a separate folder in the above Dropbox link. We also have available te reo Māori translations for Flu, Covid-19 and MMR consent forms.
Enjoy your long weekend.
Ngā mihi nui,
Sandy
Sandy Thambiah
Senior Adviser, Engagement
National Immunisation Programme
waea pūkoro: +64 21 248 1288| īmēra: sandy.thambiah@health.govt.nz
133 Molesworth Street, Te Whanganui-a-Tara
Follow us on LinkedIn | Facebook | Instagram