HNZ: 16 September NIP Update: New Pasifika campaign material | Flu jab reimbursements | Health sector hui
Kia ora koutou health sector friends and colleagues,
Here's our update for this week to help you with your immunisation mahi. Please feel free to share this with your networks where relevant. Thank you.
COVID-19
New campaign material – Pasifika booster flyers and posters
We have added a range of booster flyers and A4 and A3 posters to our Dropbox. These have a Pacific-focus and have been produced in English, Tongan and Samoan. Please share this Dropbox link Pacific booster with your networks. We also have Māori and mainstream booster material available too – it's all here in the Dropbox. Don't forget, we also have printed version available for order via our Bluestar Portal.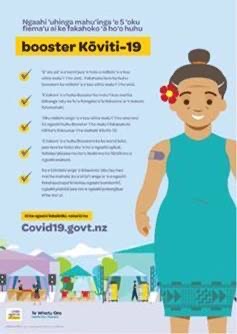 Flu
Last chance for flu jab reimbursements – a message for employers
If your healthcare workers were vaccinated against flu, you can claim up to $35 back per person from Te Whatu Ora – Health New Zealand. But be quick! The deadline for submitting your claim is next Friday (30 September). The reimbursement process is quick and simple – it generally takes less than 10 minutes to complete. But don't just take our word for it, here's what two recent users had to say:
"It was straight forward… just follow the prompts – 'a piece of cake'," Jan, practice manager.
"Found the system really good, very straight forward, and that the template invoice was really helpful," accounts administrator, aged care facility.
This offer is open to all non-DHB/District healthcare worker employers. Visit this webpage to claim your reimbursement and get your employees' flu costs refunded. If you have any questions we're here to help, us contact us at immunisation@health.govt.nz.
General
Health sector hui – vaccination update
On Thursday, 6 October, 12 noon – 1pm, the National Immunisation Programme is holding a virtual hui to update health sector colleagues on current vaccination activities (including COVID-19, childhood imms, influenza and MMR). It is an open invitation, so please pass this message on to anyone in your team/network that would like to attend. Click here to join. Don't forget to save this link and details into your calendar.
Collateral on Dropbox
All our collateral is available on Dropbox. Please feel free to share this link and the collateral widely: Dropbox: NIP – vaccine resources – Simplify your life. You can also find a range of vaccination stories to share on our YouTube channel.
Weekly vaccination data
Our latest Māori and Pacific COVID-19 vaccination data is now available here.
The most recent flu vaccination data is available here.
Kia pai te mutunga wiki.
Ngā mihi nui,
Sandy
Sandy Thambiah
Senior Adviser, Engagement
National Immunisation Programme
waea pūkoro: +64 21 248 1288| īmēra: sandy.thambiah@health.govt.nz
133 Molesworth Street, Te Whanganui-a-Tara
Follow us on LinkedIn | Facebook | Instagram